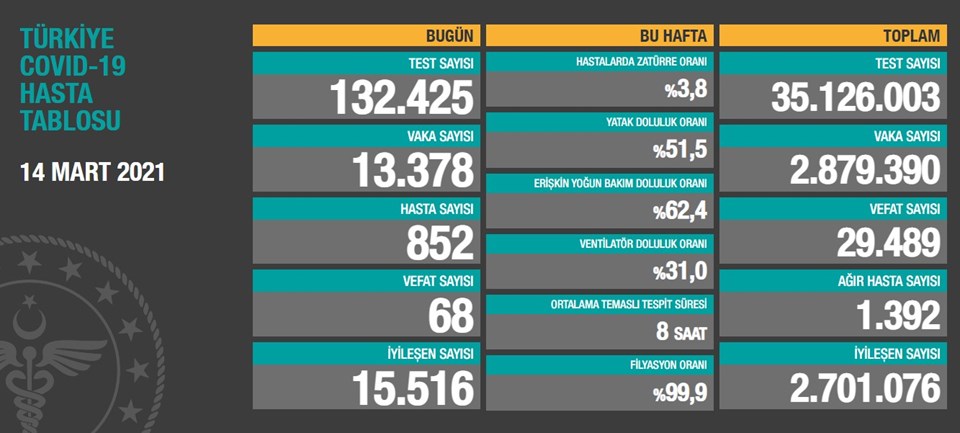 Daily corona virus table…
132 thousand in Turkey in the last 24 hours 425 Covidien-19 test was performed, 13 thousand 378 people tested positive, 68 people lost their lives.
The seriously ill became 392 thousand, the number of people recovering from the Covid-19 treatment / quarantine of 15 thousand 516 people increased to 2 million 701 thousand 76.
According to the data released yesterday; After a long search in Turkey number of cases per day It passed 15 thousand.
The number of daily tests increased to 150 thousand 98, 841 of 15 thousand 82 cases consisted of patients showing symptoms. On the other hand, the increase in the number of serious patients continued as well. 350 seriously ill patients are under treatment in hospitals.
In Turkey in the intensive care hospital occupancy rate of 51.5 percent occupancy rate it was announced as 62.4 percent.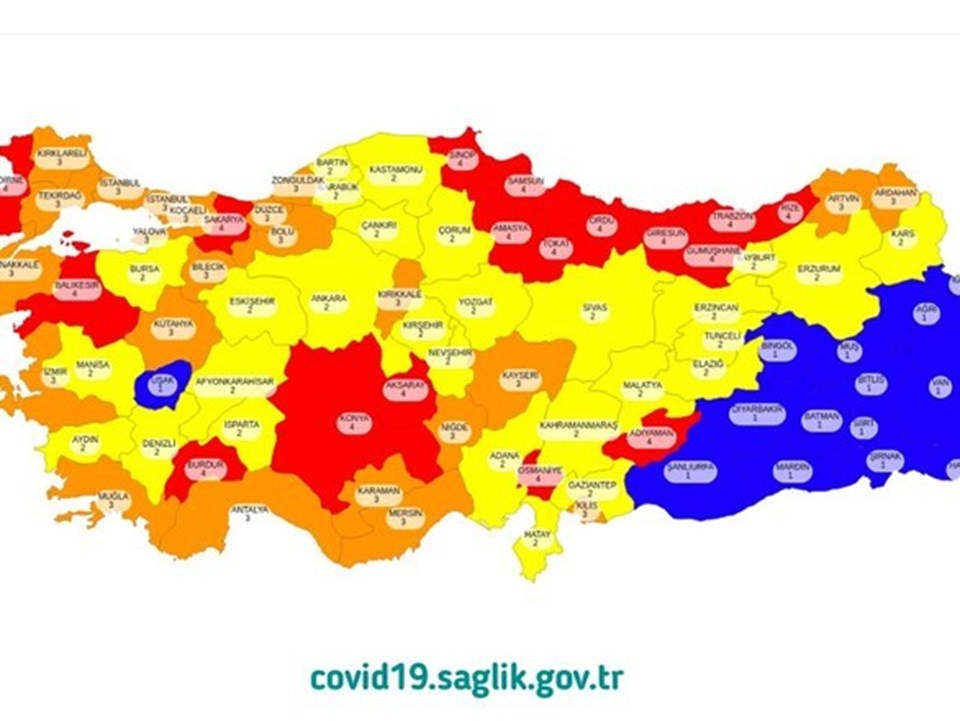 The last announced provincial risk map
TURKEY'S 'COLOR' WILL BE ANNOUNCED
On the other hand; the risk map will be updated at the beginning of the week. New restrictions will return in provinces with increased number and risk. Eyes are critical to be held on Monday cabin at the meeting …
With the first map announced, 81 provinces were divided into 4 color groups as low, medium, high and very high risk.
14 provinces were in low risk, 28 provinces were in medium risk, 22 provinces were in high risk group and 17 provinces were in very high risk group.
But the number of cases has increased in the meantime. The number of cases, which was 9 thousand 891 on March 1, when the map was announced, exceeded 15 thousand yesterday.
WHY HAS THE CASES INCREASED 63 PERCENT IN A MONTH?