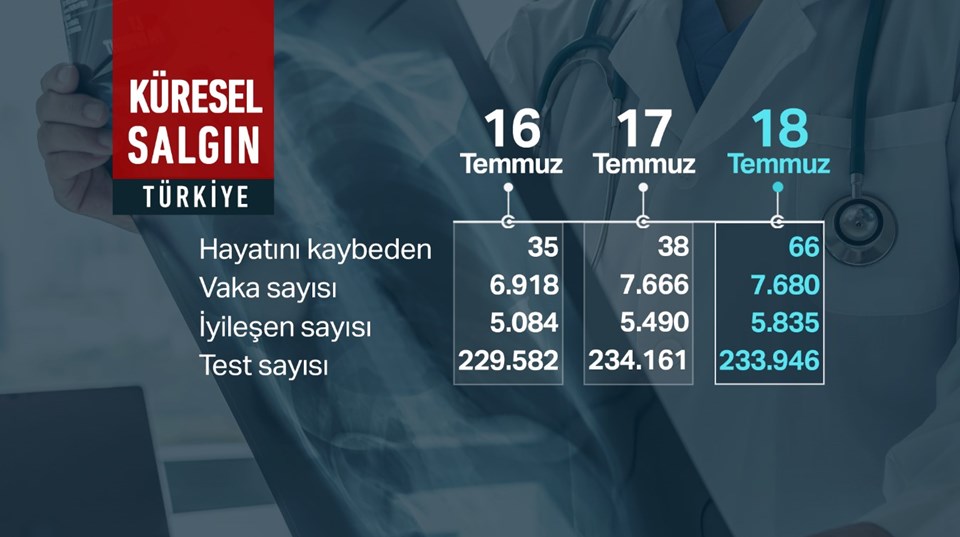 daily corona virus table…
In the last 24 hours, 226 thousand 513 Covid-19 tests were carried out in Turkey, 7 thousand 667 people tested positive, 50 people died.
Making a statement on his social media account, Health Minister Fahrettin Koca warned by drawing attention to the increase in the number of cases. Minister Koca said, "The number of cases increased by about 30 percent compared to last week. Do not take the measures lightly in the rush and joy of the holiday. Stay away from closed and crowded environments. Do not be imprudent to cast a shadow over the holiday," he said.
The number of cases increased by about 30% compared to last week. Do not take the measures lightly in the rush and joy of the holiday. Stay away from closed and crowded environments. Do not be careless that will cast a shadow over the holiday. https://t.co/RVlhe7786O pic.twitter.com/E6Tm3XLuz3

— Dr. Fahrettin Koca (@drfahrettinkoca) July 19, 2021