The approach of Ramadan caused an increase in date sales.
In the few days before Ramadan, the dried fruit makers completed their preparations and decorated their stalls with different types of dates such as Medina, Iran, Tunisia, Jerusalem and Baghdad. When those who wanted to buy dates followed the path of dried fruits, sales accelerated compared to other months.
There was dynamism in the dried fruit shops in Izmir Historical Kemeraltı Bazaar. In the bazaar where dates are sold for every budget, prices per kilo range from 14 TL to 80 TL.
The tradesmen, who sell in the historical bazaar, said that the people preferred Iranian date, which is famous for its affordable price and soft structure.
"THE CHEAPEST DATE FROM 14 TL, THE MOST EXPENSIVE IS FROM 80 TL"
Bazaar tradesman Enes Arslaner said, "There is a general increase in our sales of dates. Our sales have already begun. Dates are being sold much faster than in other months. We expect it to increase more in the coming days. There are 5 types of dates in our shop: Baghdad, Iran, Jerusalem, Medina and Tunisia. Iran and Tunisia dates are generally preferred.
I hope the month of Ramadan passes as we wish. Prices range from 14 TL to 80 TL. The most suitable date is Iranian date with a price of 14 TL, and the most expensive is Jerusalem date with a price of 80 TL. More affordable and more expensive prices may also be encountered in the market. Those with diabetes prefer sugar-free dates. Dates have many benefits for skin and heart, "he said.
"SALES OF WELL-BEING MATERIAL AND APRICOT HAS SPEED UP"
Tradesman Fatih Pamukçu said that the demand for apricots in addition to dates is increasing, "The demand for dates, sweetness materials and apricot has started. Prices for dates go from 20 TL to 80 TL. Apricot prices vary between 30- 40 TL. and he buys Iranian dates, which are affordable.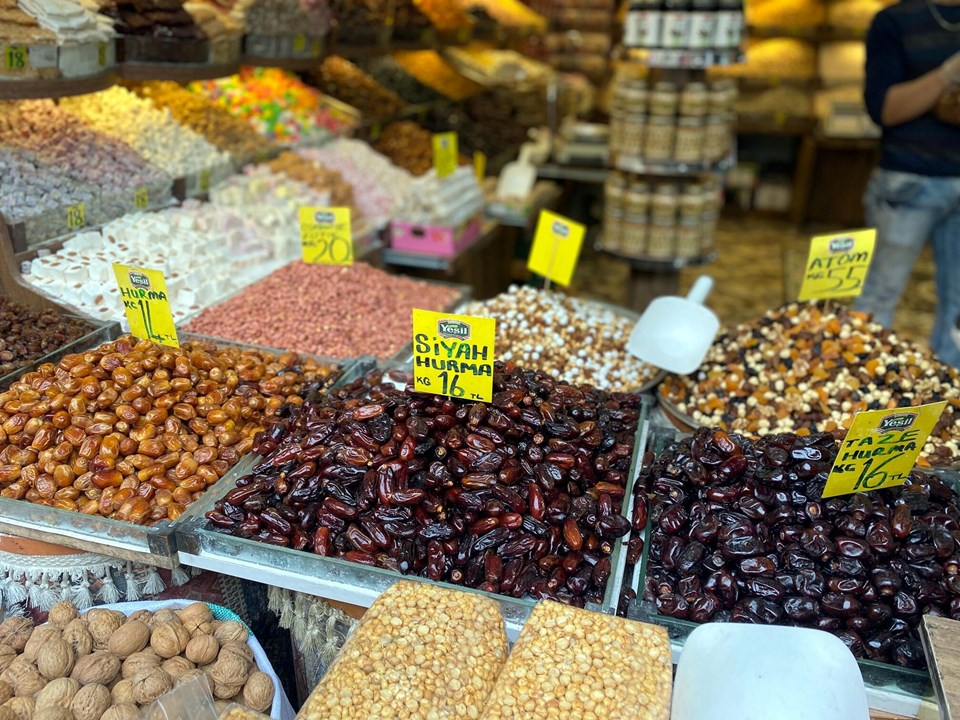 "A GOOD CHOICE TO OPEN IFTAR"
Saying that dates should always be consumed, nutritionist Deniz Zünbülcan said, "Hurma both meets the magnesium need in our body and provides the energy balance in our body thanks to the potassium and vitamins it contains. The fiber content of the date is very strong and very useful for people with digestive problems.
Dried fruit that makes perfect sense for fasting in Ramadan. The baking soda in its content increases the blood sugar of the body that is hungry all day. After the meal, people usually need dessert. They can satisfy their sweet needs with desserts that they can make from dates. As with every fruit, the portion size is very important for dried fruits. He said that although it varies according to their sizes, two large-sized dates should be consumed per day, and 3-4 small dates should be consumed.
"WE ALWAYS CONSUME"
Gültekin Altunbay, who buys dates, said, "We always consume dates with my wife. I love dates very much. We definitely have dates in our house. We are careful to buy them from quality and clean places. Today we bought dates from 16 TL per kilo."
Yıldız Altunbay, on the other hand, said, "I try not to exceed my limit because I have diabetes. I consume dates not only during Ramadan, but all the time. We love dates very much," he said.
ARCHIVE: WHAT ARE THE BENEFITS OF HURMAN?
Download the NTV application, stay up to date