Akdeniz University (AU) Faculty of Medicine, Department of Infectious Diseases and Clinical Microbiology and Vice President of the Infectious Diseases Prevention Association (BUHASDER). Dr. Ata Nevzat Yalçın announced that as of today, 140 million corona virus cases have been encountered in the world and resulted in 3 million deaths.
In Turkey, more than 4 million 150 thousand cases, indicating that more than 35 thousand deaths Prof. Dr. Yalçın explained that we are in the 7th place in the world case list. Stating that vaccination studies are of serious importance with the current measures, Prof. Dr. Ata Nevzat Yalçın said that the phase studies of 111 vaccines are continuing and 7 of them have received approval for use.
Prof. Dr. Yalçın announced that, in recent studies conducted on 12 thousand people between 16-74 age groups, the countries that rely most on the vaccine are Brazil, the United Kingdom, Italy, South Korea, Spain, China and Mexico. Prof. Dr. Ata Nevzat Yalçın said that the most feared of the side effects of the vaccine, they were hesitant because the Phase 3 approval was obtained quickly, they stated that the effect was low and that they thought they would not be caught in Covid-19. Explaining that they expect the mutated viruses to increase with the number of cases, Prof. Dr. Yalçın stated that the two-week restriction is important.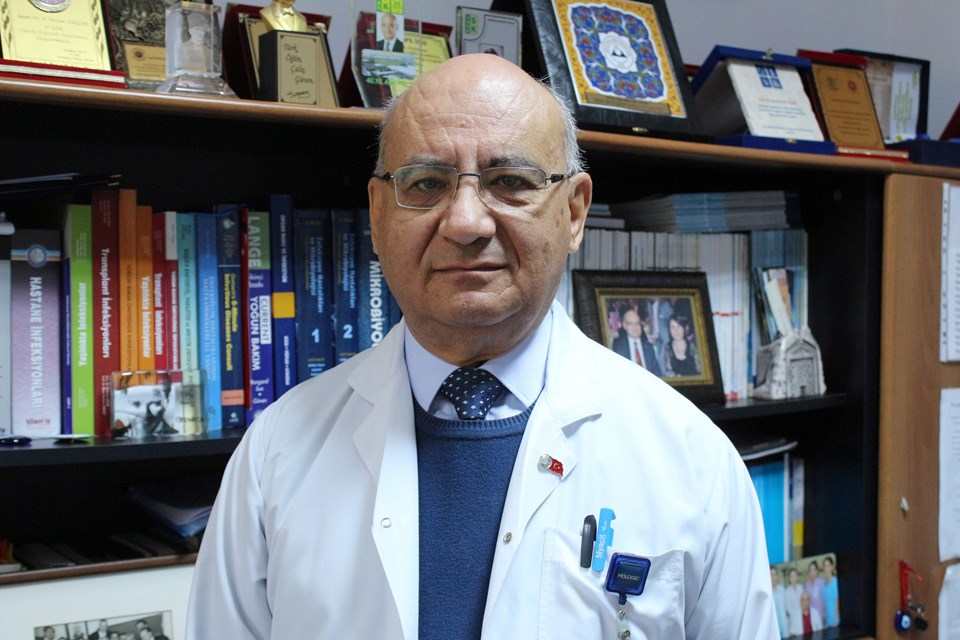 Prof. Dr. Ata Nevzat Yalçın
MUTANT STRUTS ARE EXPECTED TO INCREASE
Noting that 3 vaccines are used extensively in various countries of the world, Prof. Dr. Ata Nevzat Yalcin, told us that nearly 10 percent of the population in Turkey to make a second dose of vaccine. Emphasizing that vaccination rates should be increased rapidly, Prof. Dr. Yalçın said, "Both vaccines currently used are vaccines with high efficiency and reliability. We think that the recent failure of the treatment or the distress a little more likely to be the result of mutant viruses. The most common mutant virus appears from Britain, then South African and Brazilian mutants. In addition to these, there are, although rarely, 14 more mutant strains. They have more spread, more hospitalization requirements, more mortality, resistance to vaccines. We think that the administration of plasma taken from healed patients, or some monoclonal antibodies given, are less effective for mutant viruses. The number of them is expected to increase gradually. "There is another data that some of these mutant strains' resistance to vaccines may be a problem," he said.
THE DISEASE HAS DECREASED MORE IN THE 45-50 YEARS
Stating that the routine vaccination of individuals over the age of 60 and curfews, the rate of disease in this age group has decreased. Dr. Ata Nevzat Yalçın said, "The disease is mostly 45-50 years old. Younger adult age group. The rate of getting sick in children has increased relatively. Therefore, the rapid withdrawal of vaccination towards the lower ages will affect the event. There are no additional disorders in these patients in the 45-50 age group, "he said.
'RESTRICTION HAS A SERIOUS EFFECT'
Evaluating the coronavirus situation in the last 1 year, Prof. Dr. Ata Nevzat Yalçın emphasized that the number of cases increased significantly with the increase in the number of tests. Pointing out that masks, distance and hygiene rules should be respected, Prof. Dr. Yalçın said that it is important to create new measures. Stating that critical sector groups should be closed or worked remotely, Prof. Dr. Yalçın said, "We can consider the complete closure process of a few weeks. There were countries that did this in Europe. England closed 3 times. There were shutdowns in countries such as Germany and France. These shutdowns have a serious impact, but these measures need to be seriously continued when they return to normal after the closure. Otherwise, it runs the risk of going back to the beginning, "he said.
VIDEO: VIRUS AFFECTS THEM THE MOST