An online information meeting was held at Istanbul Training and Research Hospital, Süleymaniye Obstetrics and Gynecology Hospital, on the topic of "The Attitude of Children and Adolescents to Exam Anxiety and Coping Methods".
Referring to the importance of exam anxiety, Chairperson Prof. Dr. Serdar Cömert, stating that exam anxiety is an important problem frequently observed among children and adolescents today, "Exam anxiety is expressed as intense anxiety that prevents effective use of knowledge during exam. Exam anxiety is important because it causes a significant decrease in success. Many factors play a role in the formation of this anxiety, the importance given to the exam, the image created in the mind about the exam and the pressure of the social environment are the most common reasons. Preventing or reducing exam anxiety is possible with some approaches that the child and the family should do.
"THEY SHOULD DETECT THE ISSUES THAT THEY ARE MISSING INSTEAD OF BEAUTIFUL"
Raziye Dut, a Child Health and Diseases Specialist, who gave information about the factors affecting exam anxiety, stated that there are exams in every period of our lives and said, "Target-oriented, patient, disciplined work both reduces anxiety and brings success. Daily, weekly, monthly work plans (the number of questions to be solved daily. , issues to be repeated, new information to be learned, etc.). Care should be taken to comply with the plan. Instead of worrying about failing the trial exams before the exam, they should identify where they went wrong, what they were missing, what they did not know. Unexpected crises, changes in our lives are opportunities for the emergence of our potential. Self-confidence develops and becomes stronger as we work, work harder and taste the sense of achievement.Along with planned work, quality sleep and a balanced diet increase motivation. 8-9 hours of quality sleep is recommended for adolescents aged 12-19. "he said, grains (hazelnuts, pistachios, walnuts, dates, apples, etc.) should be preferred.
"ACCEPTING THE MOST IMPORTANT POINT PROBLEM"
Explaining the methods of coping with exam anxiety in adolescents, Psychologist Alperen Ak said: "University and high school exams are often perceived as turning points for young people and their families. Due to the emotions and physical symptoms they experience before and during the exam, children may not achieve the success they desire.
In order to prevent this situation, there are measures that young people and families can take and techniques by which they can resist this test anxiety. The key to dealing with test anxiety is to recognize and acknowledge the problem. If this situation, which occurs during the exam, is determined in advance, it can be greatly reduced with the attitude and program of work. Activities to be done can be listed as follows:
1. Effective work
2. Lifestyle
3.Realistic thinking (instead of unreal thoughts)
4. The use of attention
5.Anxiety reduction techniques
6. Determining the exam strategy "
Underlining that it is possible to maximize the duration of the exam with a good strategy, Ak said, "The strategies to be determined for an efficient exam are different from person to person. Because the knowledge of the people, the speed of remembering the information, reading and writing varies.
By taking mock exams and evaluating your behavior at the end of the exam, you can develop the best strategy to increase your success.
In the event of anxiety that may arise during the exam, a simple breathing exercise can help to calm yourself; Inhale for 4 seconds, hold your breath for 4 seconds, exhale slowly over 4 seconds. Repeat this a few times. In the meantime, positive suggestions to yourself will help you calm down and keep you focused, "he said.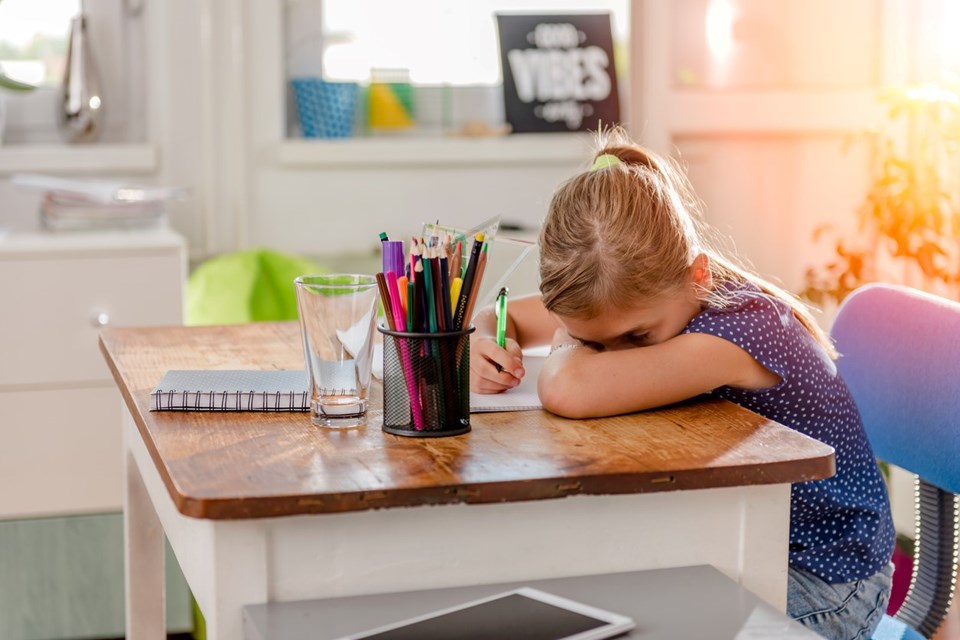 "IT IS IMPORTANT TO MEET THE BASIC REQUIREMENTS OF THE CHILD IN THIS PROCESS"
Psychologist Yeliz Polat stated that the performance of the young people will be decisive in the upcoming exam they will take in order to determine the department they will study and the profession they will do in the future, "It is also important for the young people to consider their parents' attitudes during this difficult exam process. This is a period when the support from the environment is also important. This period may be a period in which anxiety appears in the young person. As we know, anxiety can negatively affect both the mental health of the young person and the exam performance. In this process, parents should not burden an emotional burden (for example, to compare with others, to scare about the exam results and the future).
It is important to meet the basic needs of the child by creating an environment where they can study peacefully and comfortably. "It is important to give the message that the exam is less important than the physical and mental health of your child, and that it is an important situation in which he must strive and take responsibility for his future, and help him get through this process without frightening or upsetting about the exam."
Emphasizing the importance of nutrition during the exam period, Dietitian Yasemin Soylu said, "The exam stress that occurs only days before the university exam can bring many eating disorders. Correct adequate and balanced nutrition has a positive effect on physical and mental health, increasing success, long-term continuity of concentration, elimination of distraction, stress reduction. There are many benefits such as.
"A PRODUCT THAT HAS NOT BEEN TESTED BEFORE THE EXAM SHOULD NOT BE CONSUMED"
3 main meals a day and 3 snacks should be made so that blood sugar does not decrease. Meals should not be skipped. For lunch and dinner, foods such as low-fat meat, chicken, fish, yoghurt, ayran, vegetables and dried legumes, bulgur pilaf, whole wheat pasta can be preferred. Snacks are sweet chocolate, etc., which increase blood sugar quickly. It should be preferred from foods with high vitamin, mineral and fiber content, not products. These can consist of nuts and fresh dried fruits.
Omega 3 is known to improve memory and facilitate learning. Therefore, it is more appropriate to choose dark green leafy vegetables such as 2 walnuts every day, 2 servings of fish per week, spinach and purslane in salads. Consumption of vegetables and fruits with high antioxidant content also reduces stress. Before the exam day, heavy fatty meals should not be eaten. Tea and coffee should not be drunk as it will cause sleep problems. One day before the exam, a product that has never been tried before should not be consumed. A breakfast consisting of whole wheat bread, boiled eggs, low-fat feta cheese, walnuts or pumpkin seeds will be appropriate on the morning of the exam. Salty cheeses and olives should not be preferred as they increase the thirst. "
Download the NTV application, be informed about the developments

"CHILDREN MAY HAVE ADAPTATION PROBLEM"