One of the most important issues when preparations for Eid-al-Adha begin is how meat should be stored.
Turkish Butchers Federation President Fazlı Yalçındağ talked about the issues that citizens should pay attention to about sacrificial meat.
Stating that approximately 900 thousand cattle and 3 million 500 thousand small cattle are expected to be sacrificed during the feast, Yalçındağ said that this corresponds to approximately 200 thousand tons of carcass meat production.
Yalçındağ pointed out that animals that can be sacrificed as a sacrifice must have certain characteristics in order to be religiously appropriate, and gave the following information: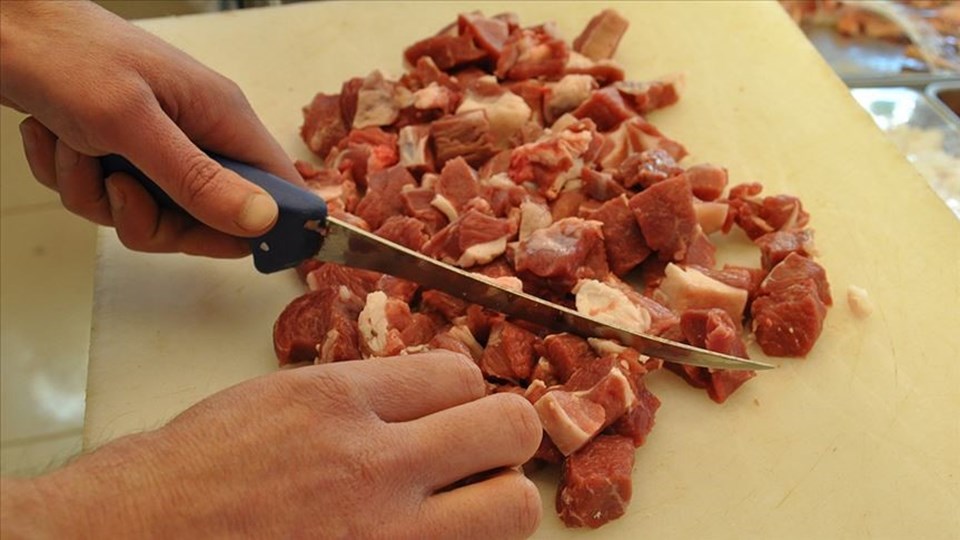 "Cow and bull must be over the age of 2 and not be pregnant. A ram and a sheep will have completed 6 months and have reached the size of their mother. The goat must also be 1 year old. We will not feed our victim the night before. Because slaughtering with a full stomach causes torture to the animal. We recommend that places prepared for slaughter should be preferred and experts in this field should do this work.
"MEAT SHOULD NOT BE PUT IN NYLON BAG OR BUCKETS"
Yalçındağ stated that after the slaughtering process is completed, it is necessary to wait for the body temperature of the animal to decrease and then to cut it into pieces.
Pointing out that Eid al-Adha has coincided with hot weather for the last few years, Yalçındağ said, "Transporting these meats in a hot plastic bag, bucket or tub causes the meat to deteriorate in a short time. If we have to cut it before it cools down, we will take the meat home as soon as possible. "We will lay a clean cover on it, place the meat in a shaded place so that it does not touch each other and wait for it to cool. After it cools, we will put it in a pyrex or tray and put it in the refrigerator. When it is hot, if you put it in a plastic bag, even in the freezer, not in the refrigerator, that meat will become unusable," he said.
"DON'T MEAT PEOPLE WITH NON PROFESSIONALS"
Emphasizing that the meat cannot be cleaned by washing, Yalçındağ said that if the meat is washed, possible contamination will spread to all parts of the meat.
Pointing out that some people see Eid al-Adha as "grabbing a slice of the cake", Yalçındağ said, "They put a meat grinder on the table and make an effort to have a poster read 'Sacrifice meat is pulled'. According to the circular of the Ministry of Agriculture and Forestry, this is prohibited. Meat Because you see the parts of it that cannot be eaten and you do not separate it from it, you will contaminate the whole meat when you grind it. Notice to Hello 174also be found. We are not after 5-10 liras to be earned here. The important thing is to increase the quality of service to the public," he said.
ARCHIVE: THINGS YOU SHOULD KNOW ABOUT Sacrificial meat
"20 THOUSAND TONS OF MEAT MAY WASTE"
Stating that it is also important not to waste the meat with the wrong cut, Yalçındağ said, "Imagine that even 10 percent of the 200 thousand tons of meat becomes unusable, 20 thousand tons. Ankara's 5 million people need meat for 1 month. It costs us around 2 liras to grind minced meat. Our concern is not to make money from it, but for the citizens to eat their meat properly and tastefully," he said.
Yalçındağ recommended that after the meat is divided into pieces at the butcher, it should be divided into consumption pieces and placed in the deep freezer. Let our citizens cut the meat into pieces and put it in the freezer, let them take out what they will use. This is our recommendation," he said.
Stating that rock salt should be poured on the hairless part of the victim's skin, folded from both sides and donated in roll form, Yalçındağ said, "This is a national wealth. We need to pay attention to this."
Download the NTV application, be informed about the developments