Istanbul University Cerrahpaşa-Cerrahpaşa Medical Faculty Hospital Chief Physician and Faculty Member of the Department of Dermatology and Venereal Diseases Assoc. Dr. Zekayi KutlubayHe said that, unlike this year, there has been a serious explosion in cases of scabies, which usually increase only during the winter months each year, and that they frequently encounter resistant patients who have not recovered despite treatment. Pointing out that contamination between family members who have to spend a long time together at home due to the pandemic has also increased, Assoc. Dr. Kutlubay said that because of the cases that are resistant to existing drugs, they find the remedy turning to traditional, artificial drugs.
15 MINUTES OF CONTACT IS ENOUGH TO CONTACT
Assoc. Dr. Kutlubay stated that 15 minutes of skin or object contact is sufficient for the infection of the scab parasite, and stated that family contacts have increased due to the quarantine.
Kutlubay said, "We observe that there is a serious increase in scabies cases admitted to both our hospital, Cerrahpaşa Hospital and dermatology outpatient clinics of other hospitals. More importantly, this year, patients who have been diagnosed before have been treated despite the treatment, and the current drugs have also They come to our clinic in cases that have gone to a doctor for 8-10 times, have been diagnosed correctly, but have not been treated with drugs on the market many times and have not been cured and have infected everyone in the family.Sometimes, the whole family goes to our polyclinics all at once. This disease is transmitted through skin or contact with objects. For 15 minutes enough smearing. Because of the quarantine, people stay longer in closed areas. As the whole family spends more time at home, the contact time increases. This causes contamination to occur very easily between family members. If a person has scabies, it is inevitable that other members of the family will be caught. "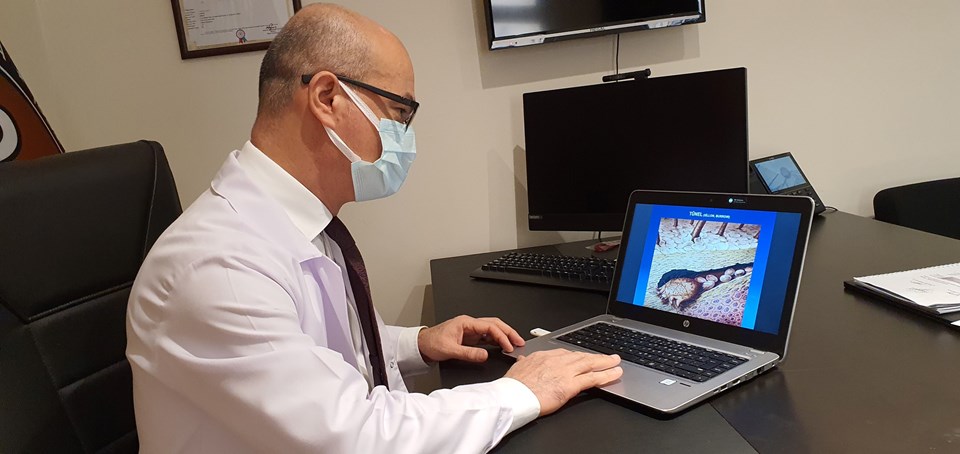 "WE MAKE TRADITIONAL MIXTURES WITH SULFUR AND KATRAN"
Pointing out that if there is a person diagnosed with scabies at home, other members of the family should also be treated, whether or not there are symptoms, Assoc. Dr. Kutlubay said, "The medicine we give should be applied to the whole body, including the soles of the feet and between the toes, while it is slightly moist after bathing. In the past, we used to recommend a waiting time of 12 hours, but now the drug needs to stay for 24 hours due to resistance. After 24 hours, the patient takes a shower again, and must wash all bed linen, clothes, etc., by boiling at a temperature of at least 60 degrees. Meanwhile, all household members and contacts have to apply the same treatment. This treatment needs to be repeated after 2-3 days. But the problem here is, especially in recent cases, there is resistance to two different scabies in the market that we use in the treatment. Although the patients who come to us have used these drugs many times, they cannot receive treatment. For this reason, we have returned to some artificial medicines containing sulfur, tar, etc. with proven efficacy. There are scabies medications that should be taken orally along with it. However, they are not available at the moment Turkey. Some patients bring it to their pharmacies from abroad, "he said.
"SYMPTOMS OF COVID AND SCARM MAY BE MIXED"
Mentioning that in some cases of Covid, dermatological symptoms such as itching, redness, and rash may sometimes be confused with scabies symptoms, Assoc. Dr. Kutlubay made the following warnings:
"Covid is a viral infection. Scabies is a disease caused by the parasite. In Covid, itching, swelling, hives-like lesions or sores can occur throughout the body. Or the whole body can turn red and swollen. Likewise, in scabies, small blisters that collect water especially between the fingers or S-shaped broken lines, small acne-like itchy wounds around the inside of the wrist, sores under the armpit, genital area in men, and eczema-like crusted and dandruff wounds in and around the chest area in women. can occur. But the distinctive finding in scabies is nocturnal itching. Itching is severe enough to awaken the patient from a night's sleep. In Covid, there is no itching at night. There is usual itching that spreads throughout the day. "
"UNLESS TREATMENT, THE INTERFERENCE COLLAPSES AND CAN TURN INTO AN OUTBREAK"
Also, Assoc. Dr. Zekayi Kutlubay concluded his words as follows: "In Mis-C syndrome that develops after Covid in children, more fever, target-like reddish rashes can occur in certain parts of the body. There is a general itching, itching is not as severe as in scabies. In addition, itching is more common in children or baby scabies. Symptoms such as pimple-like blisters on the palms or soles may occur. In addition, acne-like itchy lesions and sores may occur on the face. With these symptoms, we can distinguish child scabies from Mis-C. If there is another itching in a family, we can make a direct diagnosis of scabies. Children have itching so severe that they wake up from night sleep. bacterial infection, which we call r. A focus of infection may occur in the body, this infection can enter the blood, which is what we fear most. In addition, unless it is treated, the parasite continues to multiply and continue to be infected and the risk of turning into an epidemic increases. This is also a big problem. "