Professor of Istanbul University, Istanbul Medical Faculty, Department of Microbiology and Infectious Diseases. Dr. Serap Simsek YavuzAccording to the map published weekly by provinces, he pointed out that the number of corona virus cases per 100 thousand population in Istanbul reached 178.
"TEST POSITIVITY RATIOS EXCEEDED 10 PERCENT"
Prof. Dr. Yavuz said, "The test positivity rates have exceeded 10 percent. The rate of infection in 100 thousand people seen in 7 days is a very high figure such as 178. The situation shows that the third wave has shown its effect in Istanbul and we have not reached the peak point yet. "From the point of view of our institution, there is a significant difference compared to last week, a very high number of patients have been coming since Monday. Test positivity rate is also around 12 percent. I think we may have troubled days in the coming weeks."
"THE THIRD PICK IT LOOKES AS WE WILL LIVE"
Drawing attention to the fact that there was a great decrease in death rates according to the first data obtained in the vaccinated section, Prof. Dr. Yavuz, "This is something very pleasing. But there are too many people who unvaccinated in Istanbul. Their risk of illness at a very high level. Such as in Turkey. Therefore, to enter into close contact with people, to engage in indoor environments, obliged if you also unmasked never stop, "It is necessary not to enter crowded places without a mask, to ventilate the environment frequently, preferably to open the windows frequently. It seems that we will experience the third peak."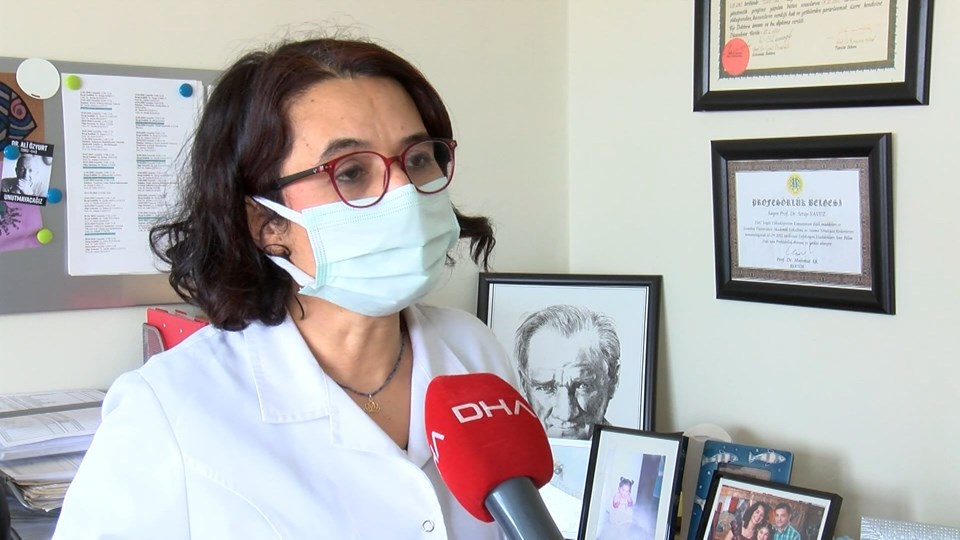 "WHEN THE BIONTECH VACCINE IS ARRIVED, WHICH GROUP IS IT WILL BE DONE TO IT"
Health Minister Dr. Touching on the planning of the Pfizer-BioNTech vaccine, which Fahrettin Koca announced recently, Yavuz said, "Whose turn will be given the vaccine. This is the plan of the Ministry. 4.5 million doses of vaccine will come in the coming weeks. The vaccination will be over 60 years old." Therefore, these will be the vaccine. It is their turn, but older people who have not been vaccinated until now can also be included.
"CORONAVAC IS EFFECTIVE IN BRITISH VARIANT"
In Turkey, more than 10 million people applied coronavac inactivated virus vaccine that is a work of the Ministry of Health about the impact of the new variant also pointed out Prof. Dr. Yavuz, "The results have not been published yet as scientific papers, but the UK variant that has been shown to be much of a difference in V1 vaccine efficacy. The vaccine we use Turkey as well most diffused and D614 with the British variant that we predict will become the predominant strain in the coming weeks, In other words, our friends working at the Public Health Institution stated that its effectiveness was similar to the Wuhan strain in the original form.
"THE CONTENT OF VACCINES WILL CHANGE ACCORDING TO SOUTH AFRICA VARIANT"
Although not as common in Turkey, V1, V2, called variant of South Africa pointed out that the observed Prof. Dr. Yavuz said, "V2 is the most dangerous in terms of vaccines. They will also change the content of vaccines in the next period according to V2. Because this strain that escapes the most from the vaccine. More precautions are already taken to prevent the spread of V2. For example, those in contact with the V2 case are more. "The South African variant is a bit more dangerous right now, it is a species we follow very closely. As with other vaccines, CoronaVac has such an expectation that it can escape from the vaccine."
"THE VACCINES WILL NOT ENTER THE QUARANTINE EVEN IN CONTACT"
Mentioning that there are changes in contact tracing in contact with the widespread vaccination, Prof. Dr. Yavuz announced that "vaccinated" people who were in contact with the first virus or the UK variant would no longer need to go into quarantine.
Yavuz said, "If a person who has had two doses is a case contact, it will not be kept in isolation, including V1 (UK variant). Because we know that the vaccine has protection. But we are concerned that the vaccine may not provide enough protection in V2 (South Africa) or V3 (Brazil) variants. for, you will need to enter the isolation of contacts. not very common in Turkey at the moment but they need to watch very closely, "he said.
"WHEN THE REAL LIFE DATA COMES, THOSE WHO EXCEED WILL SEE WITHOUT MASK"
Stating that as the "real life data" comes about the effectiveness of the CoronaVac vaccine applied in our country, we can have more comfortable days. Dr. Yavuz said, "Currently, a common person has had two doses of vaccine and 14 days have passed. The first evaluations seem positive, that is, it seems to have a very good effectiveness in terms of protection from severe illness and death. After further analysis of these and these data are shared with the public. as example of America's able to come to the situation that we can view as unmasked. vaccinated people may be viewing more comfortable with each other at least. work is being done to achieve the Turkey's real-life data. this analysis and all data should be shared evaluated together we can more comfortably "form he spoke.
"OXFORD VACCINE IS INVESTIGATED AND CAN BE RETURNED TO RE-VACCINATION"
Referring to the suspension of vaccination in some countries in Europe on the grounds that the AstraZeneca vaccine developed by Oxford University causes coagulation, Prof. Dr. Yavuz said that there may be such pauses for safe investigations.
Yavuz said, "Millions of people are vaccinated. What happens to these people should be followed, whether it is related to the vaccine. Whether these undesirable side effects seen in the Oxford vaccine are seen in the normal population or at a higher rate, this is being investigated. At the moment. The company announced that it is not more than the normal frequency. But they said we are watching closely. Germany is investigating its own cases, therefore, vaccinations with AstraZeneca have stopped. There may be such examination stages. It is wrong to say that the vaccine is problematic, there is a problem at every examination stage. Each vaccine is a separate preparation. For example, our vaccine is not like the Oxford vaccine anyway, not an adenovirus, but an inactive virus vaccine. The other future is the mRNA vaccine. However, EMA, the European Medicines Agency and the World Health Organization, also recommend this vaccine because the disease is more dangerous is running. It is tried to continue to be vaccinated in the risk group, but expect the result for those who are not in the risk group. Because the risk is much more likely to die from the disease, not the side effects of the vaccine, "he said.
"YET EARLY TO SAY EVERYONE WITH THE DISEASE BE VACCINATED"
Referring to the study conducted in the USA that prolonged Covid (long term Covid) symptoms also improve if people who have previously had the disease are vaccinated, Prof. Dr. Serap Şimşek Yavuz said, "What do we get when we vaccinate people who have had the disease before? The answer to this question is still unclear. The mentioned study showed that when people who were previously vaccinated, for example, when they were vaccinated with mRNA vaccine, long-term Covid symptoms decreased in the following periods. "This is a preliminary (early) data. It is too early to say that it is necessary to vaccinate everyone who has the disease routinely. We cannot vaccinate those who already have the disease in the first 6 months.
"IF FRANCE MUTATION OCCURS IN OTHER COUNTRIES, WE MAY SAY DANGEROUS"
Touching on the new mutation seen in France and could not be determined in tests, Prof. Dr. Saying that this mutation should not remain localized and should be seen in a few more countries in order to be considered as a danger, Yavuz said, "There may be many variants. But in order for these to become important variants, there must be a change in their phenotypic appearance. If such a thing really happens, then it is started to be monitored more closely. If it is limited to one place, it does not mean anything. Therefore, the variant detected in France at the moment is an important variant that needs to be followed closely. But if it starts to be seen in other countries, it may be important, especially because of avoiding diagnostic tests. Changing the diagnostic tests is also a very difficult thing. It is not a single gene region is not checked in diagnostic tests anyway. A few regions are checked. For example, the spike region, the nucleocapsid gene region is examined. Be the same in the British variant too du. It was negative in the Spike area, so they recognized it. For this reason, they are currently called (variant in France) as variant under investigation. There are also such variants in Turkey. But if this matters, you need to watch it routinely. "There is no such thing right now," he said.
VIDEO: " WE LIVE THE THIRD WAVE "
Download the NTV application, be informed about the developments