daily corona virus table…
Turkey's June 26, 2021 daily corona virus table has been announced.
Turkey Daily Coronavirus Table, shared from the address "covid19.saglik.gov.tr".
In the last 24 hours, 222 thousand 561 Covid-19 tests were carried out in Turkey, 5 thousand 266 people tested positive, 51 people died.
The number of patients was reported as 470.
While the number of severe patients was 733, the number of people who recovered after the Covid-19 treatment or quarantine of 7 thousand 402 people increased to 5 million 269 thousand 294.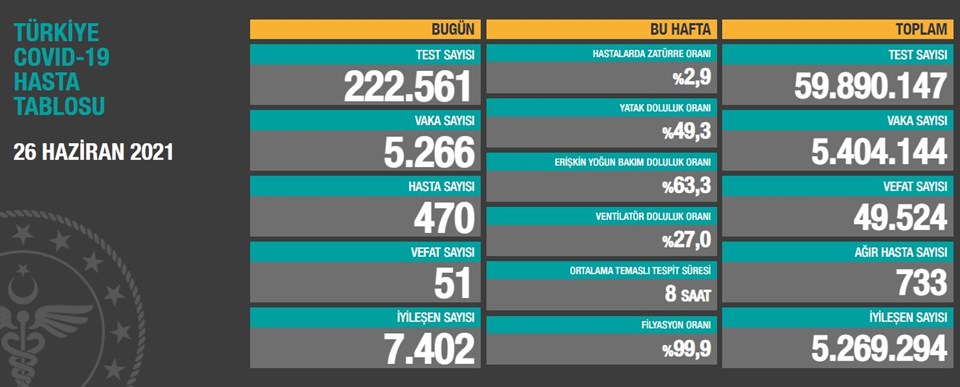 The number of tests reached 59 million 890 thousand 147, the number of cases was 5 million 404 thousand 144, the number of deaths was 49 thousand 524.
According to the weekly data, this week, the pneumonia rate in patients is 2.9 percent, the bed occupancy rate is 49.3 percent, the adult intensive care occupancy rate is 63.3 percent, the ventilator occupancy rate is 27 percent, the average contact detection time is 8 hours, and the filiation rate is 99 percent. It was recorded as 9.
Everything about the Corona virus epidemic is on ntv.com.tr
DAY DAY CORONA VIRUS SYMPTOMS