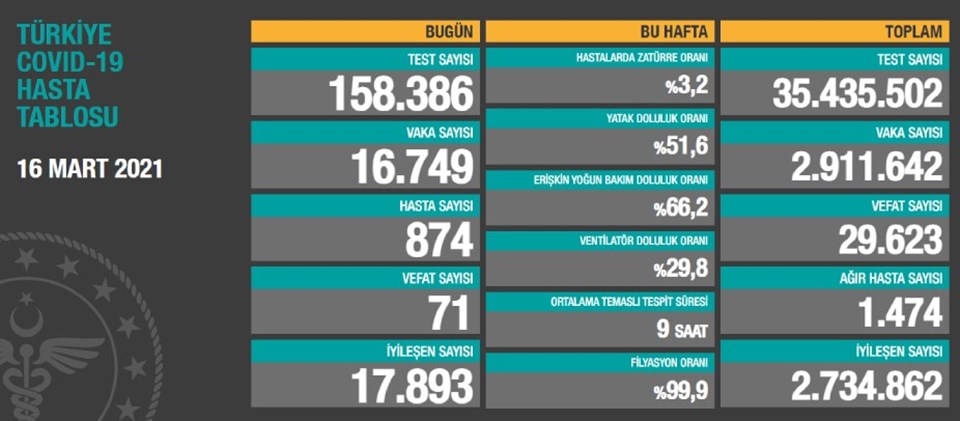 Daily Turkey Coronavirus Table, "is covid19.saglik.gov.t" was shared by the address.
Accordingly, in the last 24 hours, 158 thousand 386 Covid-19 tests were carried out, 16 thousand 749 people tested positive for Covid-19, 71 people died, the number of patients was 874.
In the last 24 hours, the number of 17 thousand 893 people who recovered with the end of Covid-19 treatment or quarantine increased to 2 million 734 thousand 862.
The number of tests reached 35 million 435 thousand 502. The number of cases was 2 million 911 thousand 642, the number of deaths was 29 thousand 623, the number of seriously ill patients was 1474.
According to weekly data, this week, the rate of pneumonia in patients is 3.2 percent, the bed occupancy rate is 51.6 percent, the adult intensive care occupancy rate is 66.2 percent, the ventilator occupancy rate is 29.8 percent, the average contact detection time is 9 hours, the radiation rate is percent. It was recorded as 99.9.
5 PROVINCES WITH THE MOST CASE
The highest number of cases in the past week was again seen in Samsun.
The increase of the case did not slow down in Samsun, which displayed a frightening picture with the number 348 on the map containing the data of 27 February-5 March.
This week, corona virus was found in 458 of 100 thousand people in Samsun.
Sinop, Giresun, Balıkesir and Kilis followed Samsun, respectively.
AT LEAST CASE IN THESE PROVINCES
The provinces with the least number of cases were Siirt, Şırnak, Hakkari, Şanlıurfa and Batman, respectively.
In Siirt, which has demonstrated a successful fight in the last week in the fight against the epidemic, corona virus was found in 2 out of 100 thousand people.
ATTRACTIVE INCREASE IN ISTANBUL
The highest increase in the three metropolitan cities was again seen in Istanbul.
This rate rose to 178.75 in Istanbul, where viruses were detected in 111.57 out of every 100 thousand people last week.
The increase was limited in Ankara and Izmir compared to Istanbul. Viruses were detected in 68.53 out of every 100 thousand people in Ankara and in 78.57 out of every 100 thousand people in Izmir.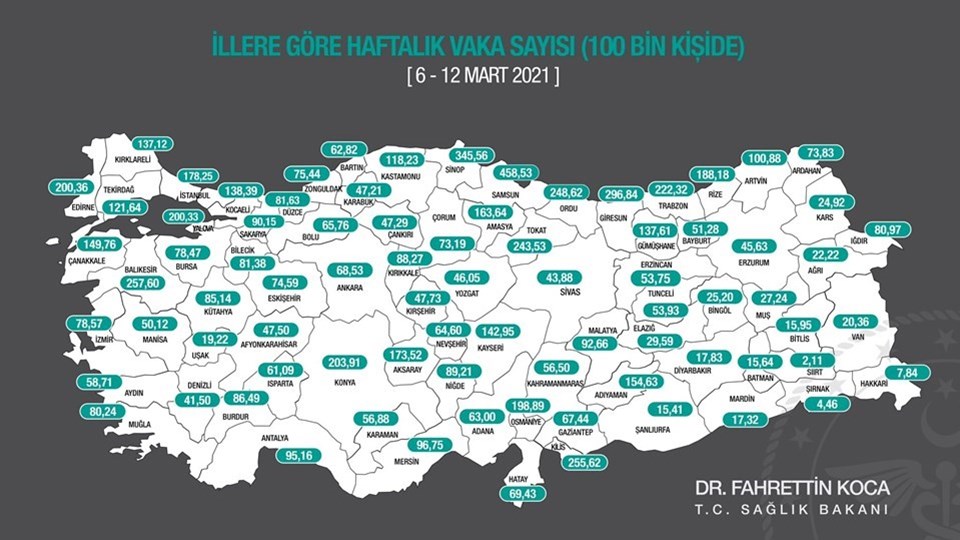 " EXISTING APPLICATION WILL CONTINUE "
In the statement made after the highly anticipated cabinet meeting yesterday, it was announced that the current normalization practice will continue for a while.
President Erdoğan said, "With the first excitement of the new normalization, I think you did not pay enough attention to obeying the rules."