Gülden Çörekçioğlu, who lives in Istanbul, gave birth to a baby boy 4.5 months ago after a healthy pregnancy. The young mother was frequently admitted to the emergency room due to health problems, without the happiness of having her first child in her arms.
Çörekçioğlu, whose blood pressure reached up to 25 and could not even lift his head due to severe headaches, started using high blood pressure medications despite his young age. Çörekçioğlu, who could not even breastfeed her baby due to the drugs, was astonished after the examinations. A 3.5-centimeter tumor was detected in the young woman's right adrenal gland in the abdominal tomography. Surgical Oncology Specialist Prof. Dr. Yavuz Kurt pointed out that this tumor, called pheochromocytoma, is seen in 1 to 8 people per million, and emphasized the importance of the surgery. Gülden Çörekçioğlu, who was happy to regain her health after months and to take her baby back in her arms, said, "I could not live my baby's happiness due to the health problems I was experiencing. I hope everything will be very good from now on ".
"I WAS VERY FEAR WHEN I LEARNED THAT I AM A TUMOR"
Explaining that her complaints started after the birth, Gülden Çörekçioğlu stated that her severe headache and high blood pressure worn her very much and she could not even take care of her baby in this process. Stating that he could not stay at home and often went to emergency services, Çörekçioğlu said, "My doctor prescribed a medicine according to my situation because I was breastfeeding. But when those drugs didn't work, we switched to a different drug and I couldn't breastfeed my baby. I was having urgent attacks, so I was often urgent. My blood pressure could drop just as suddenly until I came to the hospital. My blood pressure went up to the 25's. I was having attacks 2-3 times a day. When I heard that I had a tumor in my adrenal gland, I was very scared and surprised. I thought about how I was able to survive the birth in a healthy way. But thankfully I survived, I regained my health. My baby, I could not be happy because of these health problems that I had for 4.5 months. I hope everything will be very good from now on. I think nobody should pass such complaints. My wife put emphasis on this problem, putting it too hard to investigate. We resolved this because we focused on it, "he said.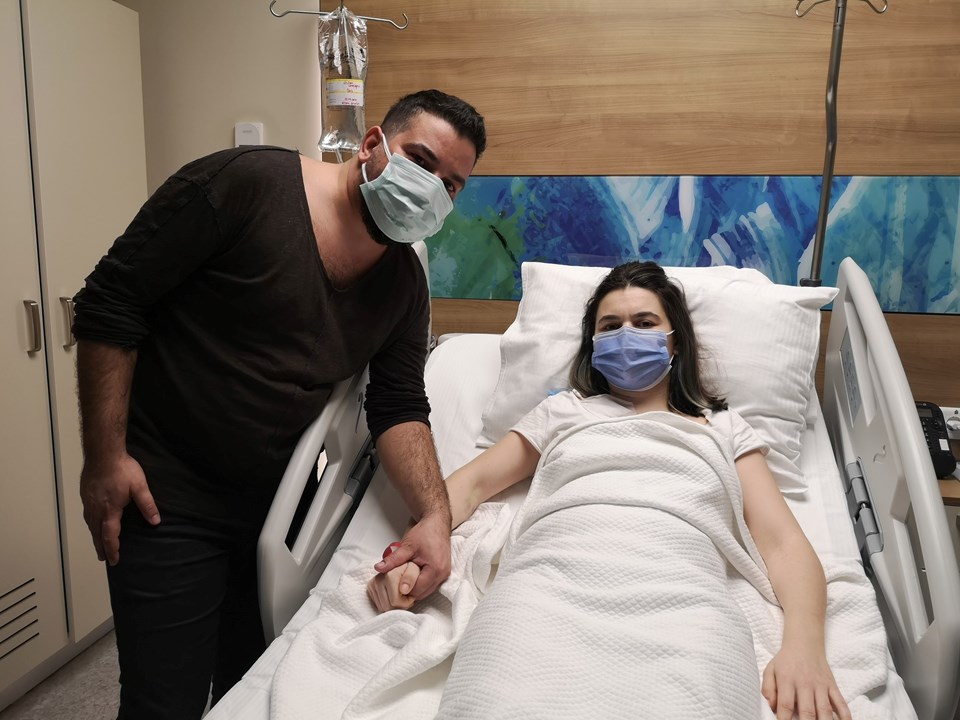 Özhan Çörekçioğlu, who was with her husband in this process, said about the difficult process they went through, "When we heard that there was a tumor, we were very sorry for the family. Because it was a difficult surgery, it had fatal consequences. During this period, we were very stressed for about 2 months. Thoughts, treatment methods, films made, researches we made one after another were exhausting us. Then, thanks to our teachers, they requested surgery after reaching a clear finding. We made a quick decision and survived the surgery safely thanks to our teachers, "he said.
"A VERY RARE TUMOR"
Professor who performed the surgery with a closed method. Dr. Yavuz Kurt said, "We have determined that the adrenal tumor is a very rare disease that we call pheochromocytoma, that is, one in a million, which causes excessive adrenaline secretion. We first started with a drug treatment. After this drug treatment, we operated our patient with a closed method. We surgically removed this tumor in the adrenal gland. Subsequently, the patient's blood pressure dropped. Today, we will be discharged if fortune, "he said.