The puffer fish, whose homeland is the Indian Ocean, the east of Africa, the Red Sea, Australia and Japan, started to be seen on the Turkish coasts after the Suez Canal was opened and expanded especially in 2014 and due to the climate change in the Mediterranean with the ballast waters of the ships.
The tissues of puffer fish contain tetrodotoxin (TTX) poison 1,200 times stronger than cyanide and 3,000 times stronger than morphine, and their meat should never be consumed.
SUPPORT TO FISHERS CONTINUES THIS YEAR
The General Directorate of Fisheries and Aquaculture under the Ministry of Agriculture and Forestry is working to reduce the population of puffer fish that threaten both the fishing economy and the ecological life in the Mediterranean and Aegean seas and to prevent their adverse effects. In this context, the 5 TL support project for fishermen per puffer fish, which was initiated last year for the first time, continues this year as well.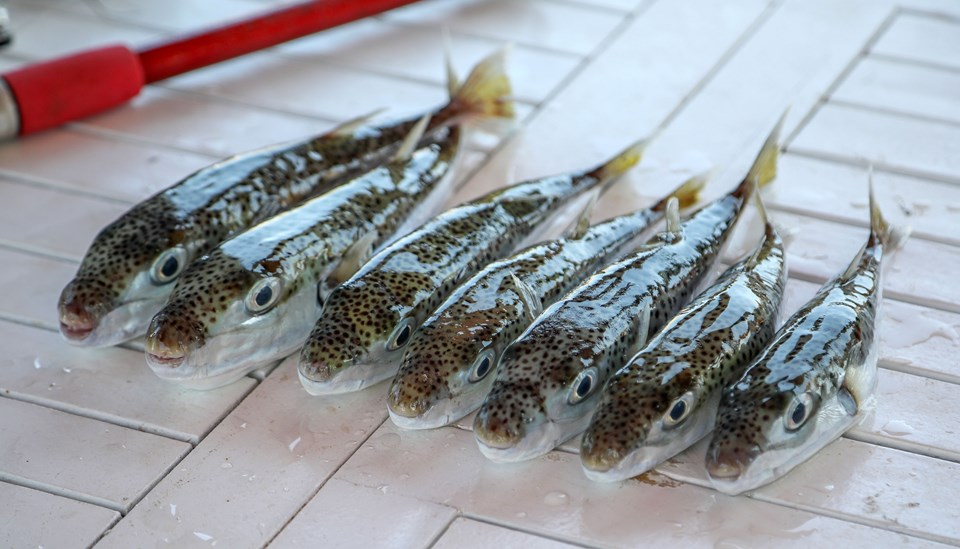 The General Directorate of Fisheries and Aquaculture carries out projects in cooperation with the private sector in order to bring the balloon fish to the economy, as well as the intensive hunting struggle. In addition to the projects on the production of items such as shoes, bags and wallets from puffer fish skin, and obtaining collagen and gelatin, a pharmaceutical company in Canada is also working on the production of painkillers.
"PAIN RELIEF MADE FROM TETREDOTOXY IS AT TRIAL STAGE"
Fisheries and Aquaculture General Manager Altuğ Atalay shared the latest information on drug production from the poison of puffer fish sent last year to a pharmaceutical company in Canada through the Ministry of Agriculture and Forestry. Stating that serious progress could not be made in the pharmaceutical industry due to the pandemic, Atalay said that the studies are continuing:
"Because the whole pharmaceutical industry focuses on vaccination. But Canada took the sample from us and studied it. They found that it was very convenient. As soon as the pandemic process is over, they inform Turkey that they will focus on this task. They've brought it to the trial phase for pain relief made from tetrodotox, which is superficial information for now.
Download the NTV application, be informed about the developments

GIANT BALLOON FISHES HIT THE COAST IN ALANYA