An international team of scientists has announced the results of the 'confirmation analysis study' of the MCED (Multiple Cancer Early Diagnosis) test, which detects more than 50 types of cancer and the source of cancer from a blood sample.
According to this; The MCED test identified a variety of cancer signals with high specificity (negative results in non-cancers), predicted the source of the cancer signal with high accuracy in multiple cancer types, and established the suitability of the MCED test for wide use as a complement to existing single cancer screening tests.

In the analysis study, the tests of 2,823 cancer patients and 1254 non-cancer patients, 4,077 people in total, were examined. Specificity, sensitivity, and predictive accuracy of the MCED test were measured.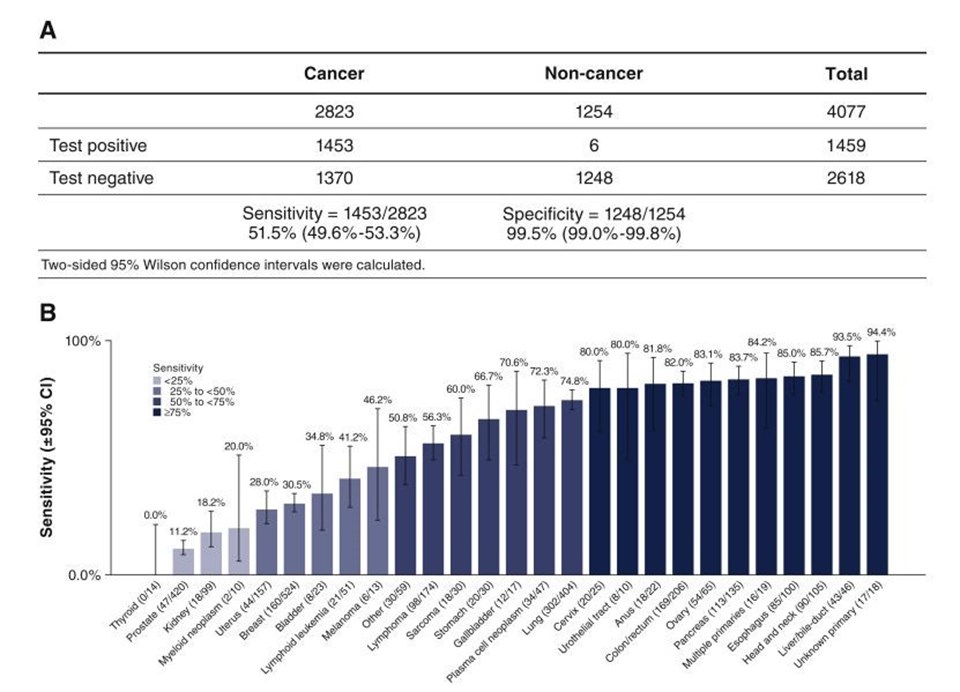 At the specificity value, the test yielded 99.5 percent for cancer signal detection. It was stated that the overall sensitivity value of the test for the detection of cancer signal was 51.5% and the sensitivity increased as the cancer stages increased.
It was stated that the overall accuracy of the MCED test in cancer patients is 88.7 percent.
ENGLAND GOVERNMENT STARTS PILOT PROGRAM
It was stated that the test looks for chemical changes in pieces of genetic code that leak into the bloodstream from tumors and diagnoses cancer from these signals.
The British National Health Service (NHS) said in a statement last November that the pilot would be implemented with 165,000 patients in mid-2021.
"If the NHS program shows that testing is working as expected for people without symptoms, (testing) will be made available routinely," the statement said.
The NHS will receive the results of the pilot program in 2023 and if the results are positive it will implement a broader pilot program with around 1 million participants.