The scientific study on 'Immune Response of SARS CoV-2 Inactive (Sinovac-Coronavac) Vaccine' conducted by the academic staff of Manisa Celal Bayar University (MCBÜ) Faculty of Medicine, Department of Infectious Diseases, Public Health and Medical Microbiology has been completed.
Ongoing work with MCB Scientific Research Fund of Support, used on a large scale in Turkey SARS-CoV-2 inactive Sinovac (Coronavac) vaccine was made in the antibody create competence and has the distinction of being one of the first comprehensive study describes the results in Turkey.
In the study, neutralizing antibodies against the region where the virus binds to human cells (RBD) in the SARS-CoV-2 Spike protein were detected by two different tests, quantitative and qualitative.
TESTED ON THOUSAND 53 HEALTHCARE EMPLOYEES
The data of the study, which is a vaccine antibody response study conducted on volunteer healthcare workers of Manisa CBU hospital and approved by the Ethics Committee of Manisa CBU Medical Faculty, was collected between January 11 and March 18, 2021 and antibody tests were performed on all participants before vaccination. One thousand 53 people were enrolled in the study. In the study, the summary results obtained by all healthcare professionals at least 28 days after the first vaccine (from 939 participants) and at least 28 days after the second vaccine (from 771 participants) were explained as follows:
"General findings: At least 28 days after the 1st vaccine, the percentage of immunity 25.3 percent (95 percent CI: 22.5 – 28.1), at least 28 days after the 2nd vaccine, the Neutralizing (Quantitative) test immunity 97.92 percent (95 percent CI: 96.91 – 98.93). ) At least 28 days after the 2nd vaccine, the neutralizing (qualitative) test immunity was determined to be 97.79 percent (95 percent CI: 96.75 – 98.23). "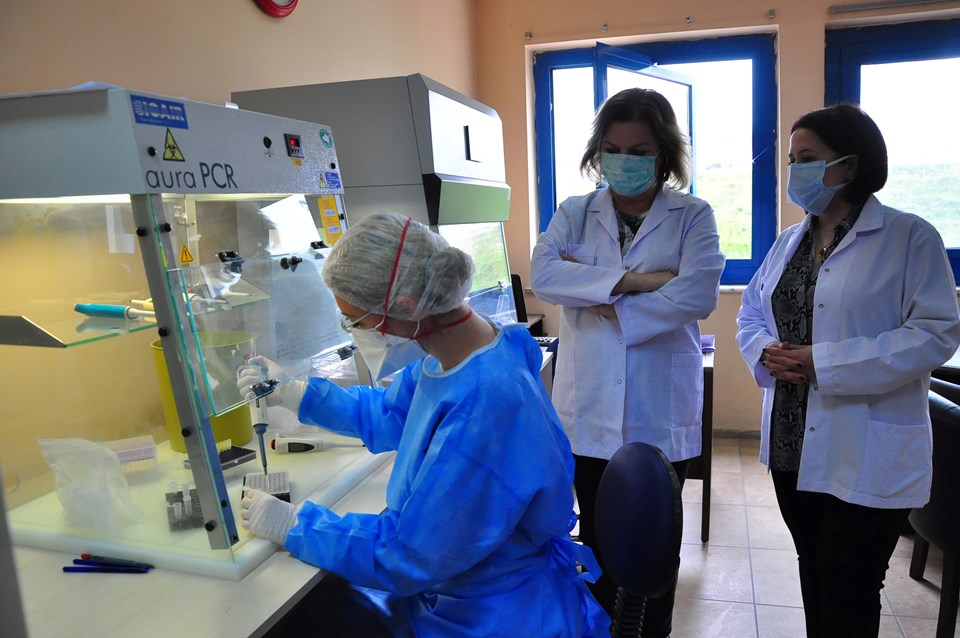 ONE OF THE FIRST COMPREHENSIVE STUDY IN TURKEY
Manisa CBÜ Faculty of Medicine Head of Medicine Microbiology Department Prof. Dr. Sinem Akçalı, "We research our Celal Bayar University Scientific Research Projects Fund with support today among the people who use on a large scale in Turkey 'Chinese vaccine known as' we aim to inactive Covidien-19 vaccine antibodies to create competency evaluation. In addition to determining the competence antibodies created by the vaccine as a Our other aim was to monitor how long the antibody levels produced by the vaccine in healthcare workers were maintained. Therefore, we chose kits that could give us numerical value to investigate the vaccine antibody levels. and to see if there were antibodies preventing the entry of the virus into the cell that would protect people from getting sick with Covid-19, we also studied the blood collected from the vaccinated individuals with another test, which we call the neutralization test. We evaluated them on the basis of the values ​​we found. This work was recognized as one of the first comprehensive study results disclosed in Turkey, "he said.
"ANTIBODY PRODUCTION RATE IS HIGHER IN WOMEN"
Manisa CBÜ Department of Infectious Diseases Dr. Faculty Member Şebnem Şenol Akar said, "In the beginning, 533 people who had not had the disease before and who had negative antibodies participated in our study. We proved with antibody tests that one thousand 53 people did not have the disease first. After the first shot, we got a blood before the second. We detected antibody levels in this blood draw. We collected our second blood at least 28 days after the second vaccination. In this case, we collected our blood from more than 900 healthcare workers after the first vaccination and from 771 healthcare workers 28 days after the second vaccination. One of the important conditions that we saw at the end of the study was that the results of the antibody we looked at with the neurolising antibody and titer were consistent. After the first vaccine, the antibody development rate remained at 25 percent. After the second vaccine, the antibody development rate increased to well over 97 percent. This means that there is not enough immunity after the first vaccine, and after the second vaccine, we have established immunity in a large part of the society. "
"A SINGLE DOSE IS NEVER ENOUGH"
Akar continued as follows:
"While the rate of antibody development is sufficient and significant in both genders, it is true that we found a slightly higher antibody level in women. There was a 97 percent rate of developing antibodies in men and 99 percent in women. This rate may vary somewhat by gender. This is certainly not true." It will be more correct to say whether it is related to gender or not when the statistical sub-evaluations are concluded. What we need to emphasize here is that one dose of vaccine will never be sufficient, it is very important to say that the second dose should be taken, and protection can be created in this way.
Akar pointed out that the rules should be observed, "The high antibody levels we have shown in our study do not mean that they will be 100 percent protected from the disease. We definitely need to continue personal protection measures without interruption. It is absolutely necessary to pay attention to the use of masks and personal distance rules. Protection from closed environments, such as this. "We need to draw attention to important issues such as not taking off our mask in environments."
"SIDE EFFECTS HIGHLY"
Stating that they are also working on the side effects of the vaccine, Akar said, "It is much safer to be vaccinated than to have the disease. In order to reduce the hesitations, we closely monitored the side effects in this study. We observed that there were very few side effects such as pain or headache. We observed that there were less than 1 percent side effects serious enough to require hospital admission. This is an important evidence showing that the vaccine is extremely safe, "he said.
Dr. Lecturer Officer Şebnem Şenol Akar, Prof. Dr. Sinem Akçalı, Prof. Dr. Erhan Eser, Prof. Dr. Pinar Dundar, Prof. Dr. Beyhan C. Özyurt, Dr. Instructor Deniz Özer, Dr. Yunus Özkaya, Dr. Merve Gezginci, Dr. Gülizar Deniz and Specialist Nurse Ferya Karadağ Yalçın participated as researchers.
IS SINOVAC VACCINE EFFECTIVE AGAINST VARIANTS?