Tuğba Öztürk / ntv.com.tr
The number of weekly cases of maps according to provinces in Turkey released for the second time.
On the map, the region that attracted attention compared to last week has not changed again. In proportion to the population in the Black Sea Region Covid-19 top three provinces in the number of cases Trabzon, Rize and Army happened.
Metropolitan cities were included on the map as follows: 35.49 in Ankara, 44.39 in İzmir, 60.19 in İstanbul.
According to the gradual normalization criteria; only 4 provinces for now "low risk" is in the category. These are Hakkari with 3.21 per 100,000, Şırnak with 3.91, Muş with 8.51 and Batman with 8.71.
12 provinces exceeding 100 cases per 100 thousand will wait a little more for relaxation. These provinces are as follows; Army 228.40; Giresun 217.51; Samsun 202.94; Trabzon 207.54; Rize 200.08; Tokat 149.20; Osmaniye 134.90; Adiyaman 120.64; Aksaray 108.27; Karaman 105.92; Sakarya 103, 01; Konya 101.95.
Gradual normalization planned to start on March 1 and provinces distribution professionals ntv.com.tr'ye evaluated.
Gazi University (GÜ) Faculty of Medicine Dean and Social Sciences Board Member Prof. Dr. Mustafa Necmi İlhanSaying that the high case rates in the Black Sea Region continue, he warned both citizens and businesses in the region to abide by the rules.
" ISTANBUL HAS ONE MORE WAY "
Turkey Ilhan said he went to a good situation in big cities noted for their high number of cases in the early days of the epidemic in general, " state is going well in Ankara. The situation in Izmir is also on average. However, we see that Istanbul has a little more way to take. "
IS A FULL CLOSURE NECESSARY IN THE BLACK SEA?
İlhan said that for the Black Sea Region, which attracted attention with its high case rates in the last two weeks analysis, it is not necessary to have a full closure of 15 days at the moment, saying, " The number of cases will decrease if our citizens comply with the rules and reduce their home visits and weekend trips, especially in provinces with an increase in the increase of cases. I would like to remind you once more. Rather than restriction, if the situation is approached this way, we can have a good process. "
IS THERE A BLACK SEA MUTATION?
Making explanations about the reason for the increase in cases in the Black Sea, İlhan said, " There is no clear scientific research yet that the Corona virus is a Black Sea mutation. If this research is done and concluded, it will already be announced by our ministry. Linking the observed increase in cases directly to mutation would be a very wrong inference at this point. "
'THE CASE IS THE KEY TO EVERYTHING'
İlhan said, "Our main criterion in gradual normalization is the number of cases. We know that the number of cases is above everything, you decrease the number of patients in intensive care as you decrease the number of cases, and you also decrease the death rate. The key to everything is the number of cases in this process. "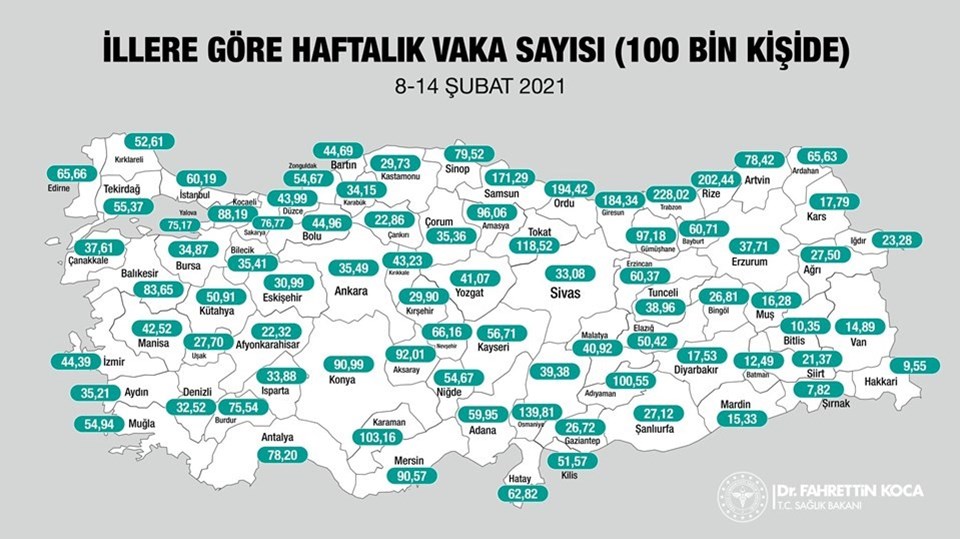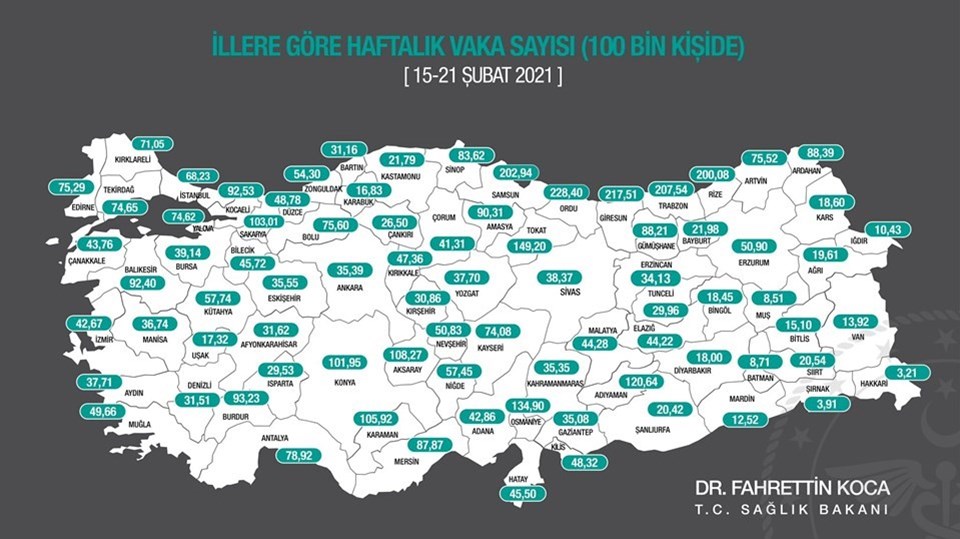 'NO CORRECTION IN 7 DAYS'
Turkey's corona evaluate the point reached in the fight against the virus Infectious Diseases Specialist Prof. Dr. Bulent Ertugrul He said that there were no major changes between the two published tables.
Ertuğrul, "Black Sea provinces; Ordu, Trabzon, Rize, Samsun are again the places where 200 or more cases were seen in 100 thousand, which were places that were similarly high on the first map. With the last map, we see that no improvement has been achieved in the last week. Perhaps quarantine practices should be put into effect in a way that the entry and exit of provinces such as Ordu, Trabzon and Rize are prohibited. "
Stating that the Central Anatolia Region is also among the regions that attract attention with high figures, Ertuğrul stated that there are not big differences in metropolitan cities such as Istanbul, İzmir and Ankara in the comparison of the two-week data.
" A CASE SHOULD BE FOUND IN THE BLACK SEA "
As of March 1, the number of cases will be evaluated province by province. Low risk provinces will be shown as "blue", medium risk "yellow", high risk "orange", very high risk "red".
Explaining that he can take normalization steps gradually, including face-to-face training for the 'blue' colored regions such as Hakkari, Şırnak and Muş, Ertuğrul said, "Provinces such as Hakkari, Şırnak and Muş can also be added to Mardin and Van. But a remedy must be found for the Black Sea, because this region is now alarming, and if the spread of the variant virus in these regions increases, a very troublesome situation begins for us. "
'OUR FEAR OF THE UK MUTATION'
One of the most talked about topics in the Corona virus outbreak is the new variants. Variants of the corona virus is rapidly spreading around the world had seen in Turkey. Ertuğrul also provided information on variant viruses in the country.
Stating that the ones in circulation are England and South Africa mutations, Ertuğrul said that the most UK mutations are seen at the moment and said, "In our fear, the UK mutation is dominating the country. If the British mutation becomes dominant in our country, it will be very difficult to control as its spread will be longer. "